Place Making 4 Inclusion – reviving active citizenship for reshaping the societies (PM4I) is to empower youth work providers and youth organisations to ensure the social inclusion of young people of diverse backgrounds in jointly shaping the local communities, by using the placemaking methodology and practices. Placemaking has become influential for practitioners in numerous fields-place-based initiatives often seek to improve the well-being of local communities through creative, collaborative responses to local issues.
---
These expedition series are meant to connect our Youth Ambassadors with their neighbourhood, especially with the public spaces that are important and meaningful for the community. We did exploration & expedition to these places to evaluate and analyze those places, to find the stakeholders responsible for it and try to work with that space. Is the place public/accessible? Who do we need to ask? Do we need to consult public authorities about what plans are going on there? The question "Who owns the space?" which is always the key question for inclusive placemaking.
On 18th February 2023, the Erfurt city expedition took place. After visiting Leipzigerplatz, Lagune e.V., and Anger, we came back to reflect on the spaces with the aid of maps. We discussed their potential, and level of engagement as public spaces, we imagined the future of these spaces.
Two intervention tools were tested in Leipzigerplatz, Lagune and Anger, which are Plint Assessment Tools and ownership rating. The first tool is a great first step in starting a transformation of a street or a public square. The tool allows easy involvement of the community and any parties in the planning process. The second tool aims to measure the sense of ownership of public space; to determine aspects of public space (physical design, social participation, maintenance) that may need improvement.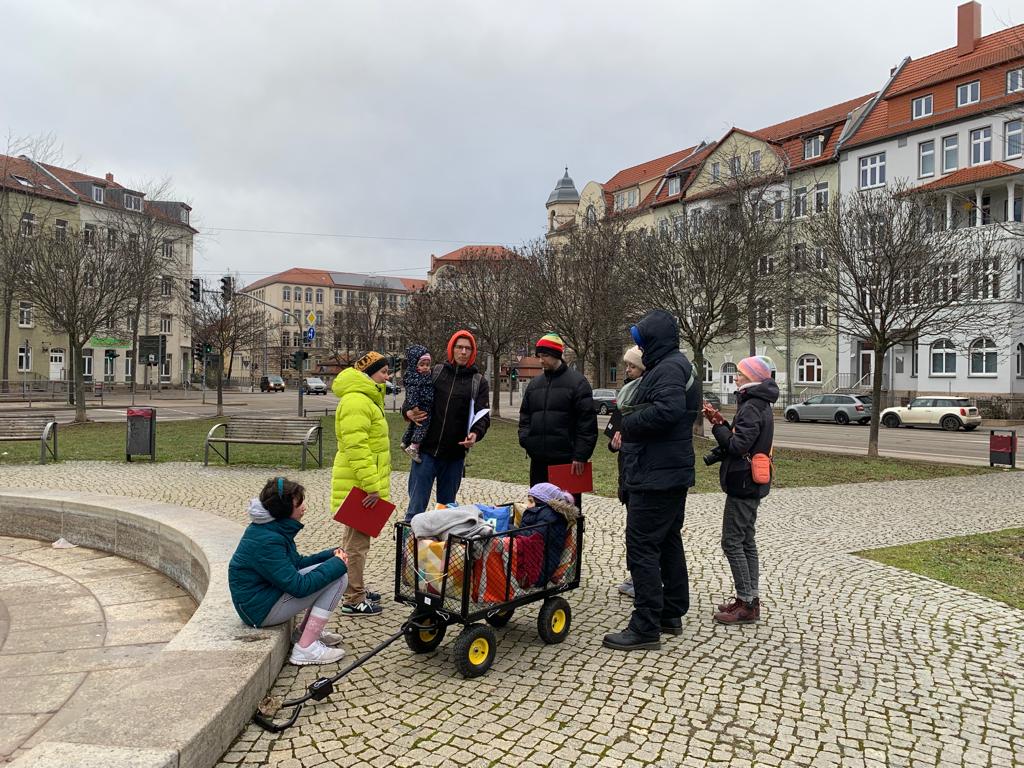 On Saturday 25th of March, we explored several public spaces in Weimar via storytelling, measuring spaces and engaging with basic planning tools for public spaces. In the first public space, Youth Ambassadors and Citizens tried the ''Act of Measurement'' tools in order to understand a large space in a manner useful for further planning of place-making interventions.  
This is a very simple tool to engage the community with basic planning tools, for people to experience the place themselves in a new way and to get an idea of the dimensions of a space.  We continued our expedition to Wielandplatz by measuring the sense of ownership tools in a rather conflicted public space, in order to observe and identify patterns in space use, to find out who uses the space and how to map: accessibility, safety, and connection with the neighbourhood. We received insightful feedback on the perspective of the users on the public space.
The City Expedition Series is in the framework of the project Placemaking 4 Inclusion, which is about building the capacities of youth workers to make public spaces more inclusive for young people. Within this project, we have a Youth Ambassador Programme that is aim to increase youth participation in making public spaces more inclusive and diverse. The next step with our Youth ambassadors is to plan Street festivals and interventions to build community and more inclusive places in Erfurt and Weimar.
Place Making 4 Inclusion – Reviving Active Citizenship For Reshaping The Societies (PM4I) (101049509) is co-funded by the Erasmus2027 Programme of the European Union.